books
The Routledge Companion to Digital Writing & Rhetoric. Under contract with Routledge. Forthcoming 2017. What is writing in a multimedia world? How does it function? What does it do? What are the possibilities and limitations for writing when it moves into multimedia and digital environments? How is writing increasingly conflated with—and enhanced by—conceptual frameworks more akin to design than textual production? All of these questions are increasingly being addressed by the emerging field of digital rhetoric, which attempts to understand the rhetorical possibilities and affordances of writing, broadly defined, in a wide array of digital environments. This Routledge companion brings together scholars from around the world who are interested in developing greater academic and research expertise in understanding digital rhetoric and the changes to our understanding of writing that we are currently witnessing in our culture.
Sexual Rhetorics: Methods, Identities, Publics. New York: Routledge, 2015.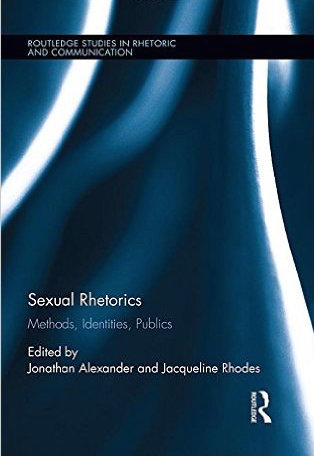 Bringing together leading voices in the fields of rhetorical studies, composition, communication, and writing studies, this collection explores the deep inter-imbrication of sexualities and rhetorical practices. We assert that the discourses, identities, affects, and embodied practices clustered under the rubric "sexuality" are all themselves inherently rhetorical in the sense that they carry and vector the weight of ideological pressures on bodies and minds. Sexuality is both terministic and dramatistic in the Burkean sense; it is simultaneously one of the dominant filters for and zones of conflict through which we understand, negotiate, and argue through our individuality and our collectivity. What are the current shapes and contours of such understanding and negotiation? And how might we use rhetoric the better both to understand "sexuality" and the "sexual" in contemporary private and public spheres? Moreover, how might we understand the rhetorical as always already sexualized, as imbued with the persuasive forces of bodies, intimacies, affects, erotics, and varied partnerings?
Techne: Queer Meditations on Writing the Self. Computers & Composition Digital Press/Utah State UP, 2015.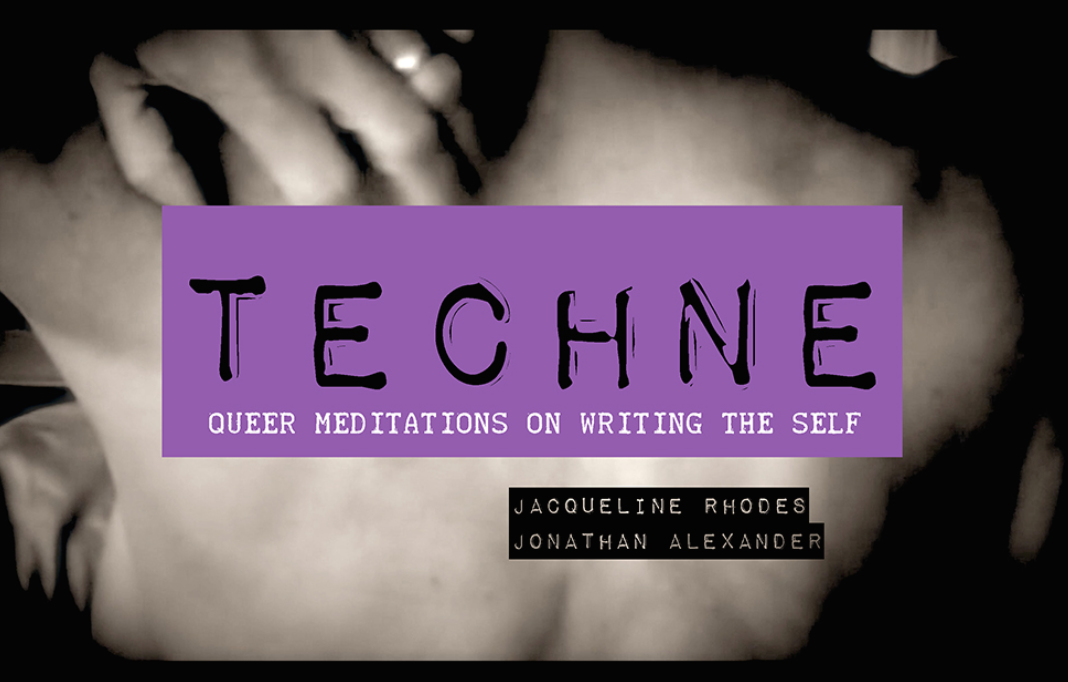 Winner, 2016 CCCC Lavender Rhetorics Book Award for Excellence in Queer Scholarship. In this project, we explore the multiple layerings of text, image, and technology as sites from which to perform/write/read the self. Specifically, this born-digital web-based project explores with its viewers the simultaneous and often contradictory interplay between digital and traditional writing technologies and the author/ed self. In this project, then, we theorize--and enact--how composing practices arise out of the complex interplay amongst discursive formations, embodiment, and mediating technologies. All are vectors through which we are simultaneously called to orient ourselves to dominant forms of knowing and through which we can intervene in such orientation. At any point in composing, we play with the possibility of critique, of writing ourselves differently. And indeed, such play is performative and epistemological. We have attempted to enact in Techne our own paying-attention to the possibilities of working with and composing through new media. Our goal is to provide an exploration of the relationships amongst processes of digital mediation and subjectivation. As such, we have used reflections on our own experiences liberally, as a lived life is the workroom of processes of subjectivation.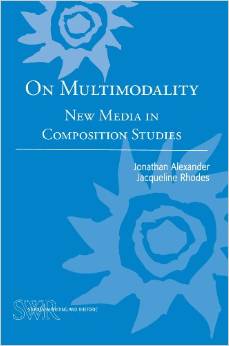 On Multimodality: New Media in Composition Studies. CCCC Studies in Writing and Rhetoric Series. Carbondale, IL: Southern Illinois UP, 2014. Winner, 2015 CCCC Outstanding Book Award and 2014 Computers & Composition Distinguished Book Award. This book argues that, as composition studies invites students to compose with new and multimedia, we need to ask about other possibilities for communication, for representation, for making knowledge. We need to ask about possibilities that may exceed those of the letter, the text-based, the composed. We argue (1) that composition's embrace of new and multimedia often makes those media serve the rhetorical ends of writing and composition as opposed to exploring the rhetorical affordances of those media; (2) that our embrace of new and multimedia often ignores the rich histories of media, which contain examples of the "distinct logics" and "different affordances" of those media; and (3) that our embrace of new and multimedia must become cognizant of the rich histories and rhetorical affordances of new media so that students' work with those media is enlivened and made substantive.
print/web articles
"Indirection, Anxiety, and the Folds of Reading." Reader: Essays in Reader-Oriented Theory, Criticism, and Pedagogy 65-66 (Fall 2013/Spring 2014): 43-71. With Laura Micciche. Print.
"Flattening Effects: Composition's Multicultural Imperative and the Problem of Narrative Coherence." College English 65.3 (February 2014): 430-54. 187-211. Print.
"Queerness, Multimodality, and the Possibilities of Re/Orientation." Composing (Media)= Composing (Embodiment): Bodies, Technologies, Writing, the Teaching of Writing. Ed. Kristin L. Arola and Anne Frances Wysocki. Logan, UT: Utah State UP, 2012. 187-211. Print.
"Experience, Embodiment, Excess: Multimedia[ed] [E]visceration and Installation Rhetoric." The New Work of Composing. Ed. Cheryl Ball, Debra Journet, and Ryan Trauman. Computers and Composition Digital Press (an imprint of Utah State UP), 2012. Web.
"On Impossibility: A Response to DiGrazia and Rosenberg." Feminist Rhetorical Resilience. Ed. Elizabeth A. Flynn, Patty Sotirin, and Ann Brady. Logan, UT: Utah State UP, 2012. 242-47. Print.
"Installation, Instantiation, and Performance." CCC Online 1.1 (2012). Web.
"Queered: A Literacy Narrative." Technoculture: A Journal of Technology in Society 2 (2012). Web.
"Queer Rhetoric and the Pleasures of the Archive." Enculturation (2012). Web.
"Queerness: An Impossible Subject for Composition." JAC: A Journal of Composition Theory 31.1-2 (2011): 711-740. Print.
"Technologies of the Self in the Aftermath: Pathos and the Borg." Rhetoric Review 29 (2010): 145-164. Print. Theresa J. Enos Anniversary Award (Honorable Mention) for best essay of 2010, presented by Rhetoric Review.
"Queerness, Sexuality, Technology, and Writing: How Do Queers Write Ourselves When We Write in Cyberspace?" Computers & Composition Online (September 2004). With Barclay Barrios, Samantha Blackmon, Angela Crow, Keith Dorwick, and Randal Woodland. Web.
multimedia
Queering Consent. 10-minute video to be screened at 2014 Rhetoric Society of American conference, San Antonio, TX. Forthcoming May 2014.
Techne: Queer Meditations on Writing the Self. Multimedia installation for Computers & Writing 2014, Washington State University. 6 June 2014.
Constructing Queer Digital Spaces: An Overview, a History, a Future. 29-minute video screened at Computers & Writing 2012, North Carolina State University. 19 May 2012 (with Will Banks).
Queered: A Literacy Narrative. 17.5-minute video screened at Computers & Writing 2011, University of Michigan. 20 May 2011.
Viewmaster. Multimedia installation for Computers & Writing 2009, University of California, Davis. 20 June 2009.
Multimedia[ted] [E]visceration: A Queer Critique. Multimedia installation for (1) Seventh Biennial Thomas R. Watson Conference on Rhetoric, University of Louisville, Louisville, KY. 16-18 Oct. 2008; and (2) Futures of Writing Conference, University of California, Irvine, 8 Nov. 2008.
editorial work
Guest Co-Editors, College English, Special Issue on Re-Imagining the Social Turn in Composition Studies (Vol. 76.6, July 2014).
Guest Co-Editors, Reflections: A Journal of Writing, Community Literacy, and Service Learning, Special Issue on Queering Service Learning. Spring 2010. With Janell Haynes.
Founding Co-Editors, Meat: A Journal of Writing and Materiality. ISSN 1549-4454. May 2004-2007.
presentations
Whitewashing, Flattening, and the (Im)Possibility of Collectivity.
Landmark Lecture Series, San Diego State University. 26 February 2015 (with David Wallace).
Feeling Undisciplined: Reading Practices and Scholarly Work panel. 2013 Conference on College Composition and Communication. March 2013 (with Laura Micchiche).
Rhetoric Reloaded: Why We All Need Queer Theory panel. 2010 Conference on College Composition and Communication. 18 March 2010 (with David Wallace).
Sex and Sensibility: The Queer Challenge to Composition Studies panel. 2009 Conference on College Composition and Communication, San Francisco, CA. 12 March 2009 (with Martha Marinara).
"An Illegitimate Profession: How Composition Bastardizes New Media Scholarship" as part of the Technology and Composition: Implications for the Profession panel, 2008 Meeting of the Modern Language Association (MLA), San Francisco, CA. 29 Dec. 2008.
"What's Queer Got to Do with It?" roundtable. 2008 Conference on College Composition and Communication, New Orleans, LA. 2 April 2008 (with Michael Faris, Nels Highberg, and Gregory Zobel).
"Technologies of the Self: Toward a Post-Cyborgian Methodology of Understanding / Writing the Human." Computers & Writing 2007, Wayne State University, Detroit, MI. 18 May 2007.
Monster's Ball: A New Generation's Vision of Composition's Future panel. 2004 Conference on College Composition and Communication, San Antonio, TX. 25 March 2004 (with Mary Boland).
"Immaterial Rhetorics: Feminism's Erasure of the F***ing Queer Body." Fourth Biennial Feminism(s)/Rhetoric(s) Conference, Ohio State University. 25 October 2003.
*sexuality/textuality/ writing*: Some Directions for Transforming Our Discipline panel. Computers & Writing Conference, Purdue University, West Lafayette, IN. 24 May 2003 (with William Banks).
Theme for English Q: Technology, Sexuality, and (the Bonds of) Discourse panel. 2003 Conference on College Composition and Communication, New York City, NY. 20 March 2003 (with Connie Monson).
"Queerness, Identity, and Composition Classrooms: A Workshop for Developing Strategy and Response." 2002 Conference on College Composition and Communication, Chicago, IL. Sponsored by (and co-presented with members of) the CCCC LGBT Caucus. 20 March 2002.